Last updated on August 21st, 2023 at 01:19 am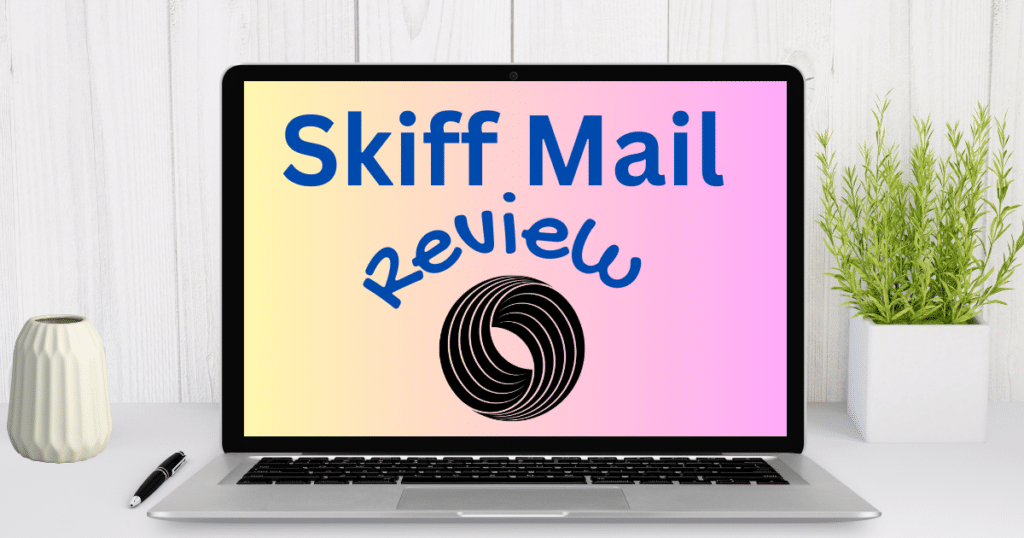 Note: I was not paid to write this review, and this post does not contain affiliate links. I'm writing this review because I recently heard about Skiff Mail and was impressed when I tried it out.
Are you looking for a private alternative to Gmail? Or do you have a custom domain but don't want to pay $6 a month for email hosting? Then Skiff Mail might be just what you're looking for.
I've been testing the privacy focused email service out for about three weeks now. Read on, or check out my 1-minute video review, to see how Skiff Mail held up.
Table of contents
Review summary
Skiff Mail is a privacy focused email provider with a generous free plan that allows you to connect a custom domain. It's a good fit for anyone who wants to protect their online privacy or who is looking for free email hosting.
Pricing: Skiff Mail has a completely free tier, as well as 3 paid tiers: essentials ($3 a month, paid annually), pro ($8 a month, paid annually) and business ($12 a month, paid annually). For more details about Skiff plans, check out the pricing section in the full review below.
| Pros | Cons |
| --- | --- |
| Can connect a custom domain for free | Emails to external users are not end-to-end encrypted |
| Supports hardware keys and authenticator apps for 2FA | Emails sent via Skiff to Outlook and Tutanota ended up in spam |
| Offers email aliases | Custom domains bought from Skiff could increase in price |
| Clean UI | Can't view email headers in Skiff Mail (Skiff fixed this as of Aug 17th 2023-thanks Skiff!) |
What is Skiff Mail?
Skiff Mail is a relatively new end-to-end encrypted email provider. When your emails are end-to-end encrypted, no-one else can read them, not even your email provider. This makes Skiff different from popular free email services, like Gmail, which do not use end-to-end encryption and can potentially view your emails.
Skiff also offers end-to-end encryption for collaborative notes in Skiff Pages, events in Skiff Calendar, and file storage in Skiff Drive. However, this review will focus only on Skiff Mail.
Skiff Mail core features
Here we'll examine the features offered by Skiff Mail, before checking out how much the service costs and examining its pros and cons.
End-to-end encryption
All mail sent between Skiff users is end-to-end encrypted automatically, without the need to set anything up. Plus, any mail you receive from a non-Skiff user gets encrypted once it's received by Skiff. This ensures your data is safe and private.
If you send an email to a non-Skiff user, however, it will remain encrypted in your mailbox, but will not be encrypted for the recipient. This is unfortunate, as both Proton Mail and Tutanota, two other end-to-end encrypted email providers, allow you to encrypt emails sent to external users.
Aliases

Skiff allows you to set up email aliases, giving you multiple addresses associated with the same account. This is handy if you want to use a separate address for, say, your online shopping accounts or newsletter subscriptions, without the hassle of signing in to a different email account.
Emails sent to your aliases will come to your main inbox, but there's also the option to view all messages sent to a particular alias separately, which is handy.
Custom domains

You can connect custom domains to your Skiff account, allowing you to set up personalized email addresses of the form [email protected]. This is great if you're using your email for your business or side hustle, as a custom email address looks professional.
Skiff is unusually generous with its approach to custom domains, allowing you to connect a domain to your account even if you are using the free plan. This sets it apart from Proton Mail and Tutanota, both of which require a subscription to use a custom domain.
You can either buy a custom domain directly from Skiff (and it will register the domain privately for you) or you can connect a domain you already own by adding some DNS records.
Purchasing a domain directly from Skiff is convenient as it will be connected to your account automatically, though I did not test how this process worked myself. Instead, I added DNS records to a domain I already owned to connect it to my Skiff account, which was a bit tedious but not too difficult. I've made a guide about how to do this, with plenty of screenshots, which should help if you get stuck.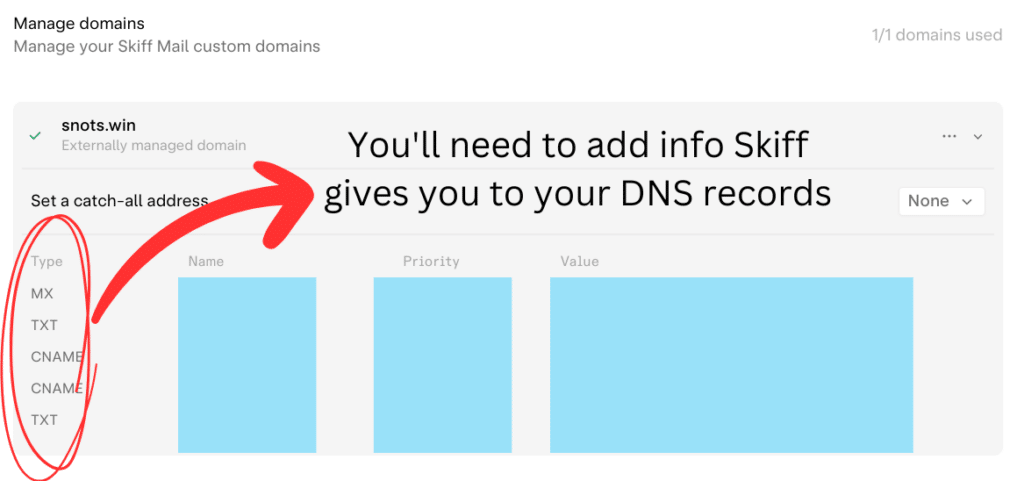 One thing to be aware of if you purchase a domain from Skiff is that, at present, the checkout page does not show you how much the renewal cost will be. This means you could buy a domain only to find out later the renewal price is higher than you bargained for, as has already happened to one redditor.
Skiff isn't trying to trick you with this, as it doesn't set the price of domains. However, showing users the renewal price could help prevent some disappointment and frustration.
Schedule & undo send
Skiff has features that allow you to be productive, as well as private. If you get inspired to write an email at 3:30am, for example, you can schedule it to be sent at 8am to hide your middle-of-the-night email writing habit. However, while this feature was available when I accessed Skiff in my browser, it seemed to be missing from the Android app.

Additionally, if you notice a typo just as you hit "send," you can hit "undo send" and correct your mistake before anyone sees it. Again, however, while this feature was available when using Skiff Mail on the web, it didn't seem to be available in the Android app.
Folders, labels, and filters
You can also keep your mailbox organized using folders, labels and filters in Skiff, though on the free plan you're limited to 5 folders and labels and 2 filters.
Moving your messages into folders and tagging them with labels can make it much easier to find what you're looking for later. With filters, you can make this happen automatically to incoming messages and easily keep your inbox spick and span.
Custom signature

You can add a custom signature to your Skiff email, which is especially helpful if you have a business or side hustle. You can include, for example, your logo, website and contact details to make it easy for your recipients to keep in touch.
How much does Skiff Mail cost?
Skiff currently has four different plans: free, essential, pro and business. The plans include access to features in Skiff Pages, Skiff Calendar and Skiff Drive, though here I will only focus on the features in Skiff Mail.
The free plan is generous, giving you 10 GB of storage, allowing you to link one custom domain and granting you four email aliases. It also gives you up to five folders and labels, as well as two mail filters, to help keep your inbox organized.
The essentials plan costs $3 per month if paid annually or $4 per month if paid monthly. It increases your storage to 15 GB and ups the number of aliases you can have from four to ten. It also removes the restrictions on the number of folders, labels and mail filters you can have. Unfortunately, it does not give you the ability to add an extra custom domain.
The pro plan is more pricey, costing $8 per month if paid annually or $10 per month if paid monthly. It drastically increases your storage to 200 GB, offers 15 aliases and 3 custom domains. It also unlocks Skiff's auto-reply feature, allowing you to send an automated message to all incoming emails, and gives you the option to use one alias with an extra short username.
The business plan is aimed at heavyweight users and comes with a hefty price tag: $12 per month if paid annually, or $15 per month if paid monthly. At this level, you'll be given 1 TB of storage, 15 custom domains, 15 aliases, access to Skiff's auto-reply feature and the option to use two aliases with a short username.
What are the pros and cons of Skiff Mail?
I've been testing Skiff Mail's free plan for nearly three weeks now and have identified some awesome pros, as well as annoying cons, of using the service.
Skiff Mail pros
First, the pros. The biggest one, in my opinion, is being able to connect a custom domain to your account even on the free tier.
The only other email host I'm aware of that allows you to connect your custom domain for free is Zoho Mail. And while they are a solid email provider (I've personally used them for 9 years), they do not offer end-to-end encryption.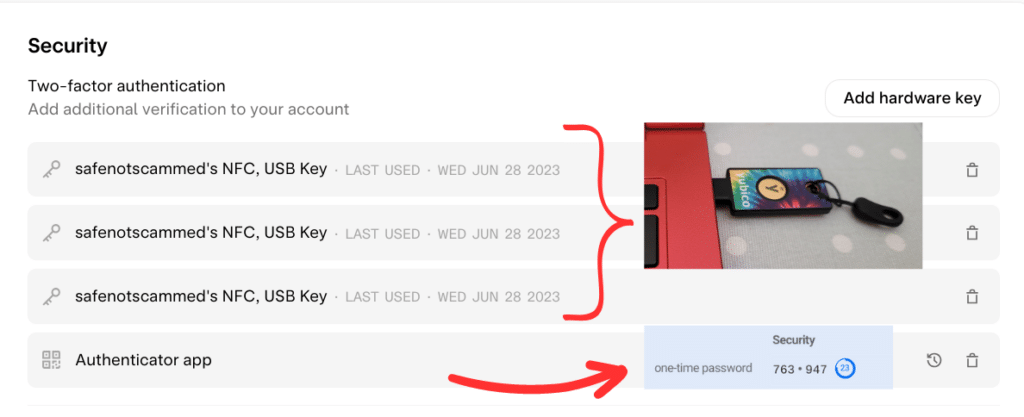 Another important pro is that Skiff Mail allows you to protect your account with the most secure form of 2-factor authentication available: hardware keys. Even better, it allows you to add multiple keys, so you can add a backup (or two!) to avoid getting locked out of your account. I've currently added three security keys, and Skiff still says I can add more. But if you don't yet have a hardware key, don't worry! You can still use an authenticator app to secure your account.
I also like that Skiff offers email aliases. This helps keep your email address private, as you can use an alias instead of your main address. If an alias starts getting spam, you can delete it, though Skiff limits how often you can do this to "prevent people from collecting and invalidating" them. Aliases created with a custom domain, however, aren't subject to these limits.
Finally, Skiff's user interface (UI) is clean and uncluttered. This can make the many hours we probably all spend staring at our inbox at least a little more pleasant.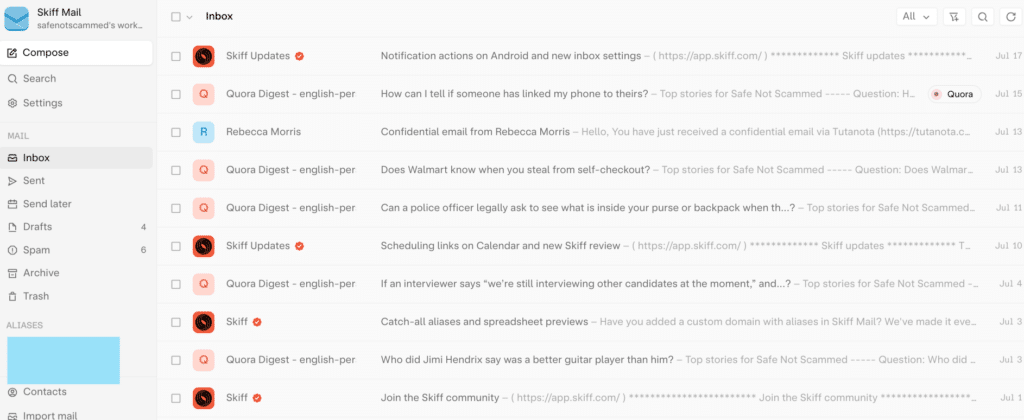 Skiff Mail cons
Like any service, Skiff is not perfect. One big con I noticed is that, as mentioned earlier, Skiff Mail doesn't give you any way to send an encrypted email to a non-Skiff user. This means that if you want to send end-to-end encrypted emails to your friends, they'll need to sign up for Skiff first.
As Skiff has a great free plan, that might not be too much of an ask. On the other hand, your friends may not want to sign up for an account just to receive emails from you, especially if they are not privacy conscious.
Another con is that emails from my Skiff account went straight to the spam folder in my Outlook and Tutanota accounts (though Gmail received them just fine). Once I told Outlook and Tutanota that the emails from Skiff weren't spam, subsequent emails arrived properly in my inbox. But this is something to keep in mind if you'll need to email non-Skiff users regularly.

There is also unfortunately no way to view email headers directly in Skiff. Instead, you have to download the email as an EML file and then open it with a text editor if you want to see the headers. As I look at email headers regularly to make sure an email is genuine and not a scam, I found this rather annoying.As of August 17th 2023, Skiff has added a way for you to view email headers directly. Excellent job, Skiff!
A final issue, as I mentioned earlier, is that if you buy a custom domain from Skiff, you're not told what the renewal price will be before you make the purchase. This means you could get a nasty shock if you purchase a discounted domain which increases in price the next year.
However, you can avoid this if you purchase a domain from a registrar yourself and then hook it up to Skiff. I've personally had a very good experience with Porkbun, though Namecheap has been fine, too.
Alternatives to Skiff Mail
Proton Mail and Tutanota are two other well-known end-to-end encrypted email providers. Like Skiff, each offers more than just mail.
Proton offers an encrypted calendar, drive, VPN and password manager in addition to encrypted email. It also owns SimpleLogin, an email aliasing service. I've written a review of SimpleLogin if you're interested in learning more about it.
Tutanota offers an encrypted calendar and is planning an encrypted drive as well.
Final recommendation
Skiff has an excellent free plan that is definitely worth checking out if you want a privacy focused email provider or a free custom email address. If you like it, you can consider upgrading to one of the paid plans for more features.