Last updated on October 31st, 2023 at 04:40 pm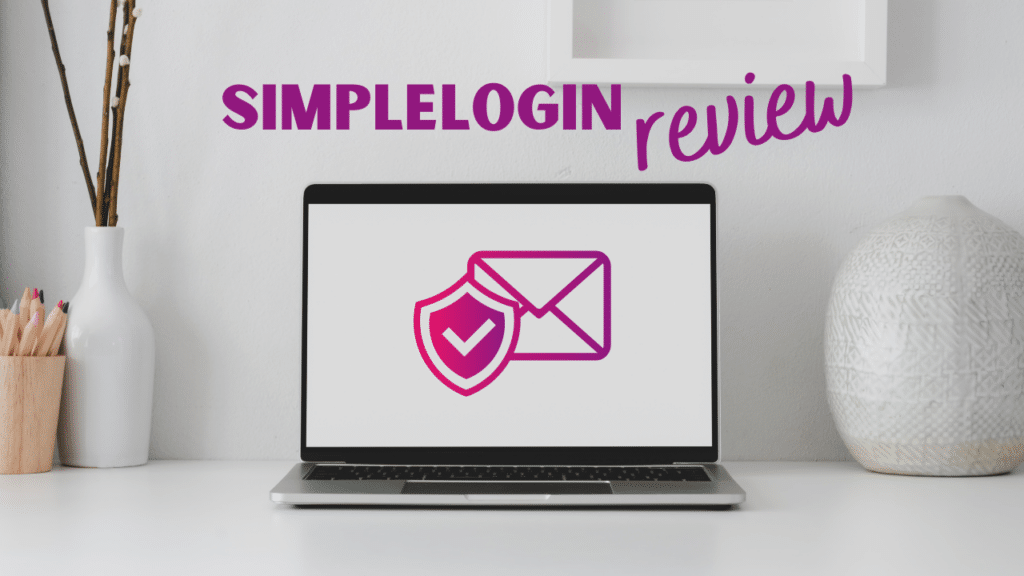 Note: I was not paid to write this review, and this post does not contain affiliate links. I'm writing it because I really like the service and think more people should know about it!
It's a familiar story. You sign up for an account with a website and hand over your email address. Sometime later, the website gets hacked and your email address ends up in the hands of the bad guys. Cue an inbox overflowing with emails from spammers and scammers.
Enter SimpleLogin, a service claiming to solve that problem. As someone who had to switch email addresses after my old one was leaked in no less than five data breaches, I was excited to try out a way to keep my new address private.
In this review, I'll explain what SimpleLogin is and how to use it, as well as covering its pros and cons, safety and pricing. But for those of you who don't want to read the whole thing, I'll start with a brief summary.
Table of contents
Review summary
SimpleLogin creates email aliases, i.e. alternative email addresses, that forward mail to your real address. It's made for anyone who wants more to stay private online and reduce the amount of unwanted emails they receive.
Pricing: SimpleLogin has a free plan as well as a $30 a year premium plan with extra features.
| Pros | Cons |
| --- | --- |
| You can create both custom and random aliases | Some services won't allow you to use a SimpleLogin alias |
| You can send emails from your aliases as well as receive them | The UI (user interface) is somewhat unintuitive |
| The premium plan allows you to connect your own domains | |
| The mobile apps and browser extensions make it easy to manage your aliases on any platform | |
What is SimpleLogin?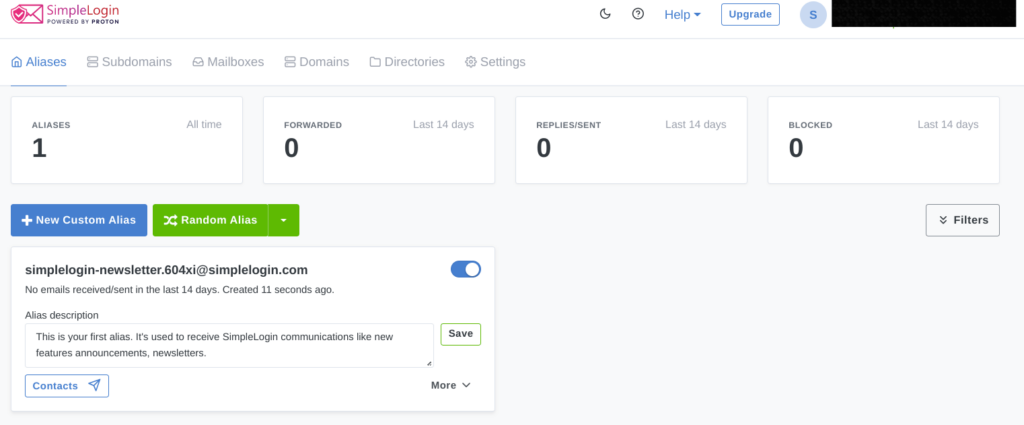 SimpleLogin is an email masking service that helps keep your email address private.
Once you sign up, you can generate alternative email addresses called aliases and give them out in place of your real email address. They look something like this: [email protected].
You can use an alias when you sign up for a new site or online newsletter, or even give one to people you don't know that well who want to keep in touch.
When an email is sent to an alias, SimpleLogin forwards it to your real email address, so it ends up in your regular inbox. If you reply to it, SimpleLogin makes sure your response looks like it comes from your alias, not your real email.
Is SimpleLogin safe?
As SimpleLogin forwards your emails, it's good to consider whether it's trustworthy before you decide to use it.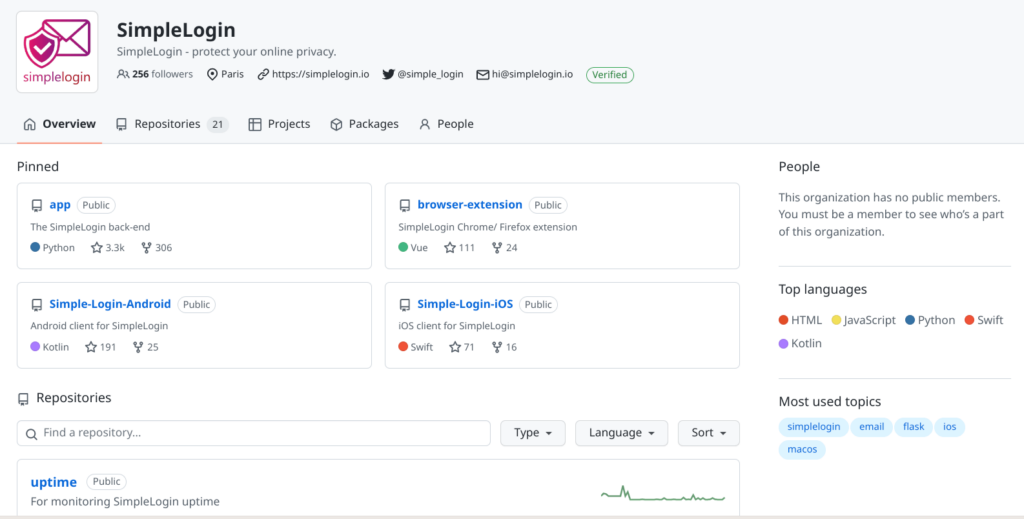 Fortunately, there are two good reasons to trust SimpleLogin. The first is that it is now owned by Proton AG, the well-respected company behind privacy-focused ProtonMail. The second is that its code is open-source, meaning anyone can look at it and check it's not doing anything it shouldn't.
How much does SimpleLogin cost?
SimpleLogin has a free plan that allows you to generate 10 email aliases and forward them to 1 mailbox, i.e. real email address.
It also has a premium plan, which costs $30 a year or $4 a month. This gives you access to unlimited email aliases which can be forwarded to unlimited mailboxes, i.e. real email addresses, allows you to connect unlimited custom domains, generate aliases on the fly, and more.
How do I use SimpleLogin?
Once you sign up, SimpleLogin gives you your first alias. You can also create new aliases in a few different ways, which I'll go over below. Then I'll cover sending emails from an alias, as well as what to do if your alias starts to receive spam.
Creating a new alias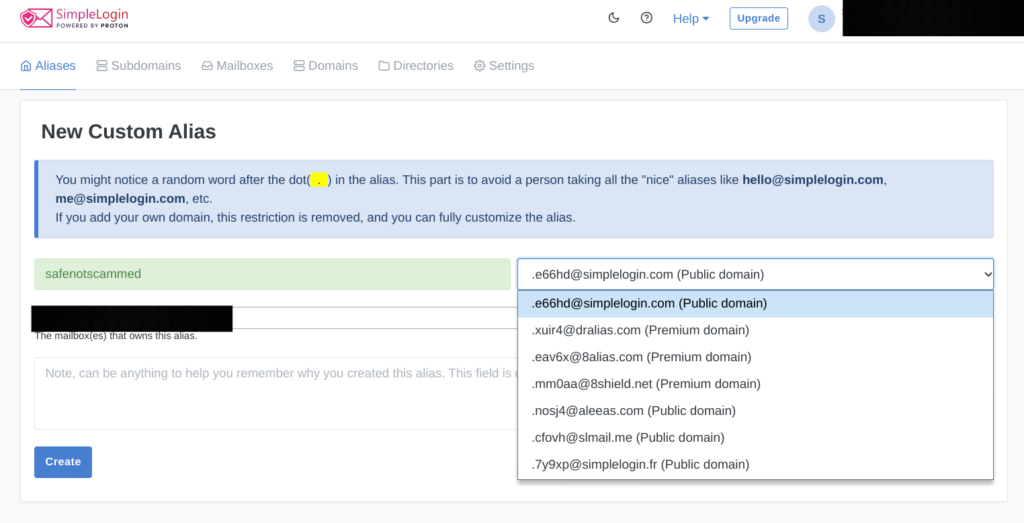 If you want some choice over how your alias looks, you can create a custom alias. You'll need to decide on a prefix and then select a domain (with some added random letters and numbers) out of the available options. For example, I chose the prefix "safenotscammed" and the domain (plus random characters) [email protected], giving me the alias [email protected].
More choice over how your alias looks is possible with the premium plan, as you can connect custom domains, i.e. domains you own. With a custom domain you won't have any random letters added, meaning you can style your aliases exactly how you want, e.g. [email protected].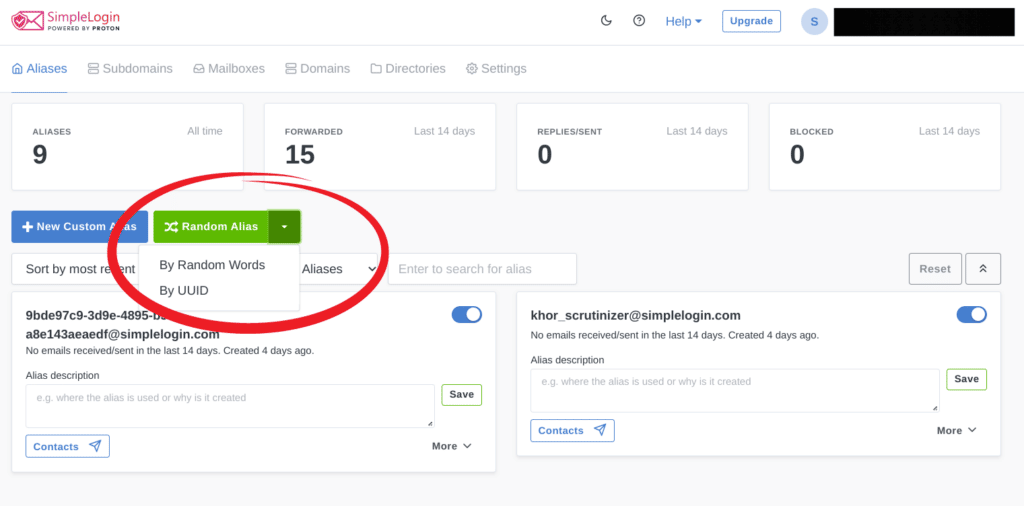 You can also ask SimpleLogin to create a random alias, either by using random words or by using a 32 digit universally unique identifier (UUID). These are good options if you want your alias to keep you as anonymous as possible.
When I opted for random words, SimpleLogin generated the alias [email protected]. When I selected UUID, it gave me [email protected]
Creating aliases on the fly
If you're on the premium plan, you can also generate aliases "on the fly," i.e. without creating them in SimpleLogin before you give them out. This can be helpful if you're asked for your email address when you don't have easy access to SimpleLogin, such as when you're in a store and want to sign up for its loyalty program.
You can generate email addresses on the fly in three different ways: by using directories, subdomains, and custom domains. Each of these requires some setup beforehand to create a basis for the aliases you'll then be able to generate when you're away from SimpleLogin.
Directories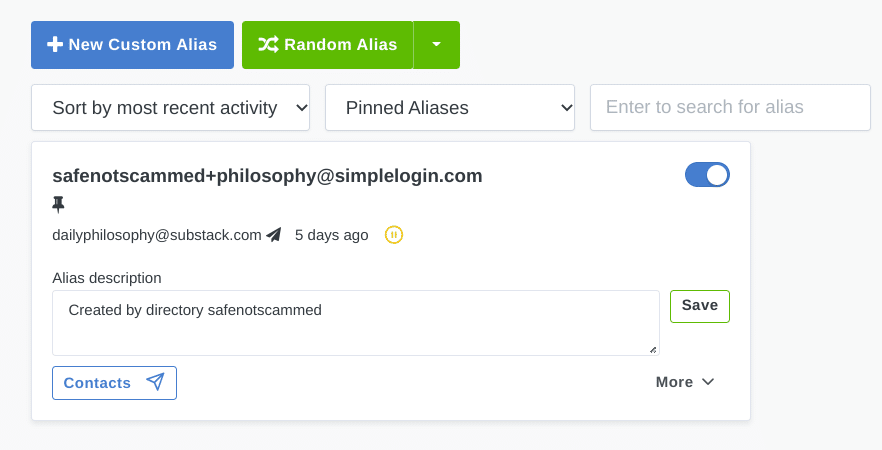 You can create up to 50 directories on the premium plan. I started off by making one called "safenotscammed." To use your directory to make aliases on the fly, you need to add a "+," "/," or "#" to your directory name, followed by a word or phrase and one of the available domains, e.g. simplelogin.com.
For example, I wanted to sign up for a philosophy newsletter, so I entered the not-yet-created alias [email protected] into the newsletter sign up form. When the confirmation email was sent, SimpleLogin automatically created the alias for me.
Subdomains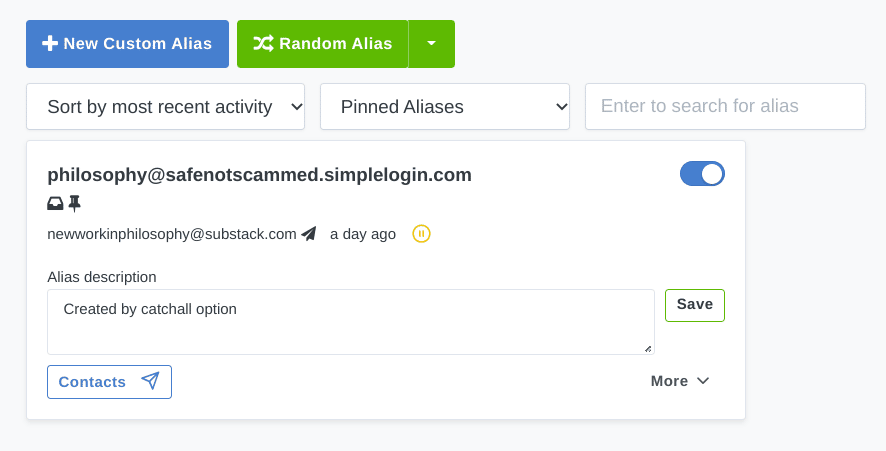 Subdomains work similarly to directories, but you can only create 5 of them. To set up a subdomain, you'll first need to choose one out of a selection of domains and then decide what to call your subdomain.
I created safenotscammed.simplelogin.com as one of my subdomains. To create an alias on the fly, choose a word or phrase, then add "@" followed by your subdomain.
For example, I signed up for another philosophy newsletter using the not-yet-created alias [email protected]. Once the newsletter's welcome email was sent, SimpleLogin created the alias and delivered the email to my real inbox.
Custom domains

The third and final way to create email addresses on the fly, custom domains, is probably the easiest, though you do have to purchase the domains separately and connect them to your SimpleLogin account first.
Once that's done though, you just have to turn on a setting called "catch-all" for your domain and SimpleLogin will automatically create aliases of the form [email protected] on the fly.
For example, I connected the custom domain safenotscammed.email to my SimpleLogin account and enabled the catch-all option. So now if I sign up for a philosophy newsletter using the not-yet-created alias [email protected], as soon as SimpleLogin receives the welcome email, it will create the alias for me.
Responding to emails
Once you've given out your aliases, you might find you need to respond to an email sent to one of them. SimpleLogin allows you to reply right from your inbox and makes sure your response looks like it comes from your alias. You don't even have to do anything to set this up—it just works!

If you're on the premium plan, you can also initiate an email sent from your alias, though this is slightly more complicated. You'll need to go to your SimpleLogin account and find the alias you want to send an email from. Then select "contacts" and enter the address you want to email and click "Create reverse-alias." You'll need to put the reverse-alias in the "to" field of your email, write your message, send it, and let SimpleLogin take care of the rest.
What to do if your alias gets spammed
If your alias starts receiving unwanted emails, you have a few options. If the unwanted emails are all coming from one particular address, you can block that address to stop those emails reaching your inbox.

You can do this by logging into your SimpleLogin account, going to your alias, clicking contacts, and toggling the button by the offender's name to "off."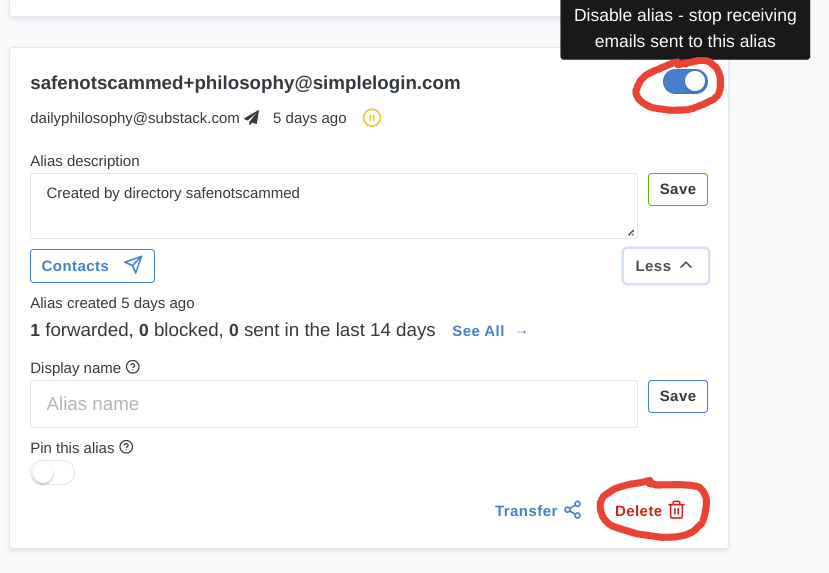 You can also disable the entire alias, which will stop all emails sent to it from reaching your inbox. Just toggle the button by your alias's name to "off." If you want to allow emails through again, you can toggle the button back to "on."
Additionally, you can delete your alias by clicking the "more" button and selecting "delete." However, SimpleLogin recommends against deleting an alias, unless it's a custom domain, because once it's deleted there's no getting it back.
What are the pros and cons of SimpleLogin?
I tested out the premium version of SimpleLogin for a week to see how it held up. Spoiler alert: I will definitely keep my subscription.
During my testing, I used SimpleLogin to sign up for multiple different services, including Twitter, Pinterest, Instagram, and various newsletters without any problem. Only one very niche site would not let me register using my alias. This site explicitly requested you use a real email address to sign up, so it's not surprising my attempt to use an alias did not work.
One site I signed up for started sending me a lot of email so I used SimpleLogin to block the sender. In my SimpleLogin account, I can see that their address keeps sending emails to my alias, but thankfully none of those messages have made their way to my inbox.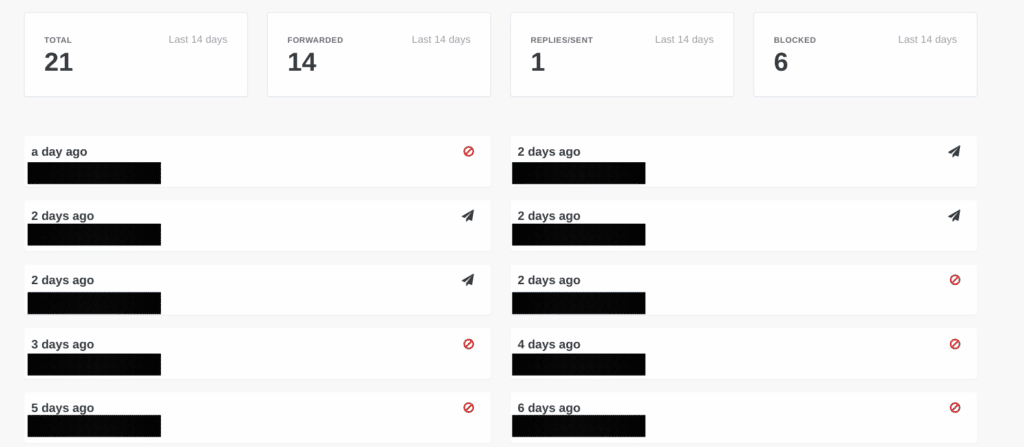 I also tested out the ability to send emails using my alias, both by responding to an email and by initiating an email. I used one of my other real email addresses for this so I could check that the emails sent via my alias didn't leak the real email address I'd used to send them. Fortunately, everything looked just as it should.
One nice feature of SimpleLogin is that it offers mobile apps and browser extensions. This makes it easy to use an alias to sign up for services on mobile, as you can just click on your alias in the app to copy the address. The browser extension also allows you to create an alias and enter it into an online form in one click. While that's super convenient, I couldn't figure out how to change the kind of alias that gets generated there, which was a little irritating.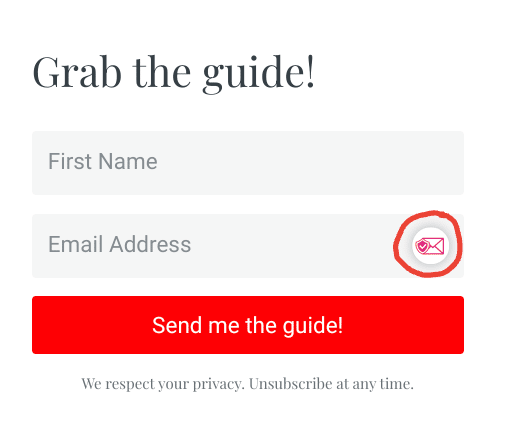 My favorite SimpleLogin feature is the ability to add custom domains. You can use them to create unlimited custom email aliases and, as you can send mail from them too, you're basically getting functional custom email addresses without the need to pay for separate hosting, which is great!
That's not to say SimpleLogin is perfect, however. As I mentioned earlier, one site I tried to sign up for wouldn't let me do so using a SimpleLogin alias. If more sites start doing that, then it's going to be problematic.
Additionally, I found SimpleLogin's interface to be unintuitive at times. For example, when I wanted to add an extra mailbox to one of my aliases, I looked under the settings for that alias and couldn't find an option to add it. I was confused until I realized I needed to add the mailbox to my account via the Mailbox tab first, before the option to add it to an alias would appear in the alias's settings.
Alternatives
If you like the idea of masking your emails but don't like SimpleLogin, you can try Firefox Relay, Addy.io and Skiff Mail instead.
Firefox Relay offers free email masking and its paid plans include an optional VPN and phone number masking, too. Like SimpleLogin, it is also open source.
Addy.io is open source, like SimpleLogin, and offers a free plan and two paid tiers.
Skiff Mail is an end-to-end encrypted email service that includes a Quick Alias feature, allowing you to create email aliases on-the-go. Skiff's free plan gives you access to 10 Quick Aliases and also allows you to connect a custom domain, which you can use to generate additional aliases.
Final recommendation
SimpleLogin is a great way to keep your email address private. It gives you 10 aliases for free and, if you want more, or if you just want more powerful features, the premium plan is relatively inexpensive at $30 a year. Plus, as SimpleLogin is owned by Proton AG, a respected company in the privacy sphere, you can rest easy knowing it's a trustworthy service.