Last updated on September 5th, 2023 at 01:20 pm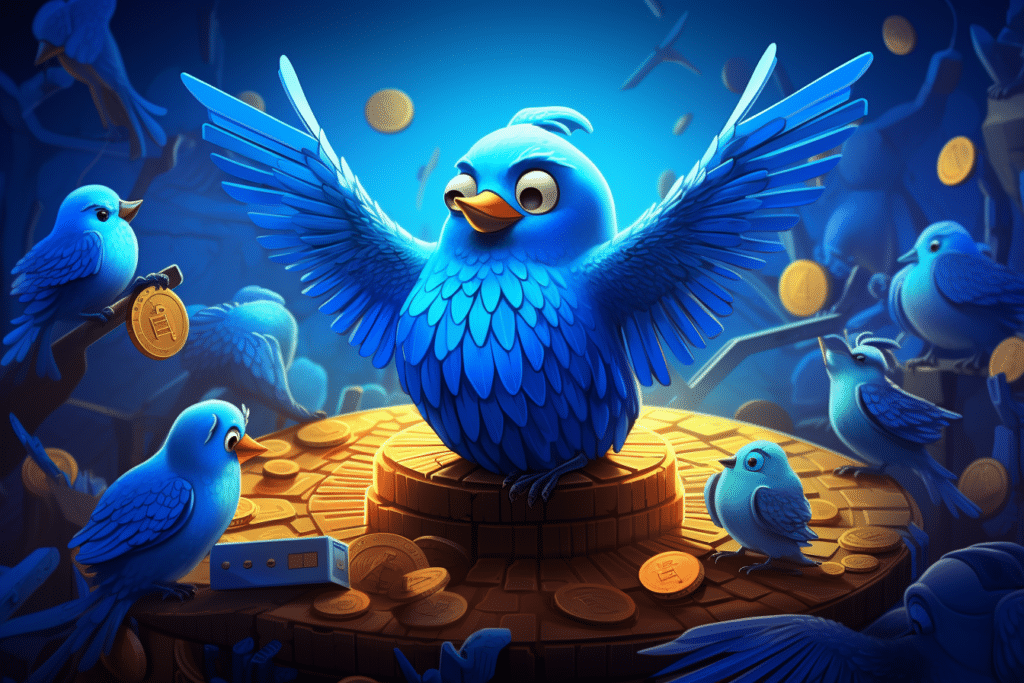 Despite Musk's claims to the contrary, Twitter is still full of scams. Crypto scams, in particular, are rampant on the platform. In this post, I'll explain one I came across recently so you'll be able to avoid it. You can also watch this one-minute video I made for a quick overview:
The scam
Tweets promoting this scam share a "referral code" for a new cryptocurrency exchange. All you need to do is enter the code and you could get up to 10 free ETH! The tweets even include screenshots to show how it all works.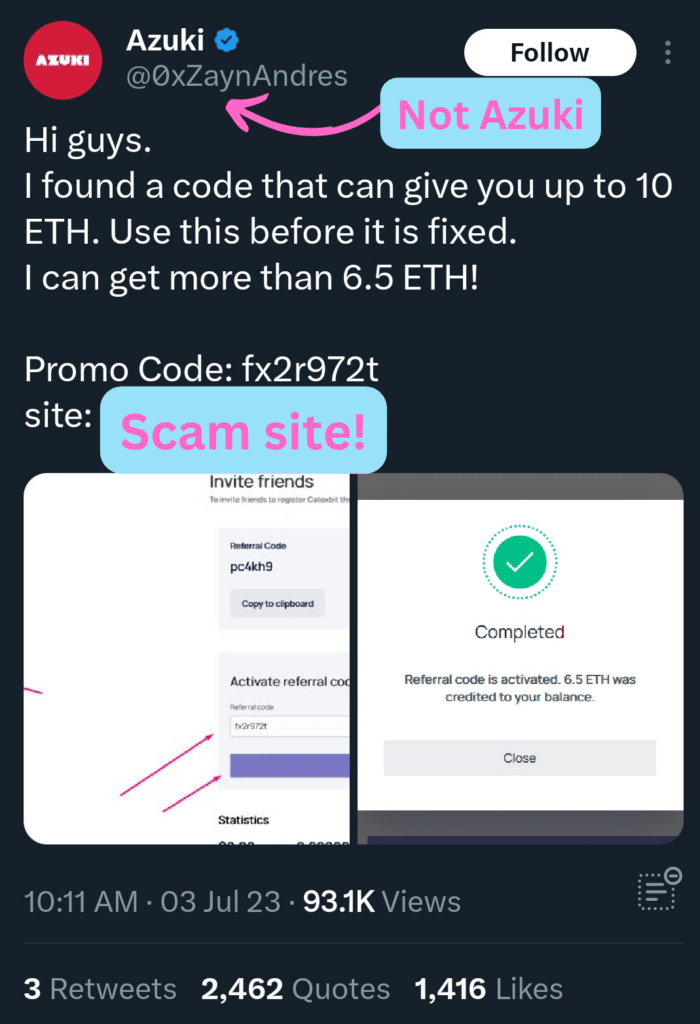 What these tweets don't show you is that if you try to withdraw the ETH, you'll be asked to pay an "activation fee" of 0.005 BTC. This is a classic scam move and if you do it, you'll be sending money directly to the scammers' pockets.
How do I know this? Because people who fell for the scam left comments about it, in some cases not realizing they would be unable to withdraw their crypto even if they paid the "activation fee." The scammers then hid those comments under the "hidden replies" section, clearly not wanting other people to realize how the scam worked.
One user even reported being charged $93 worth of Bitcoin to withdraw their free ETH, only to find they still couldn't withdraw anything.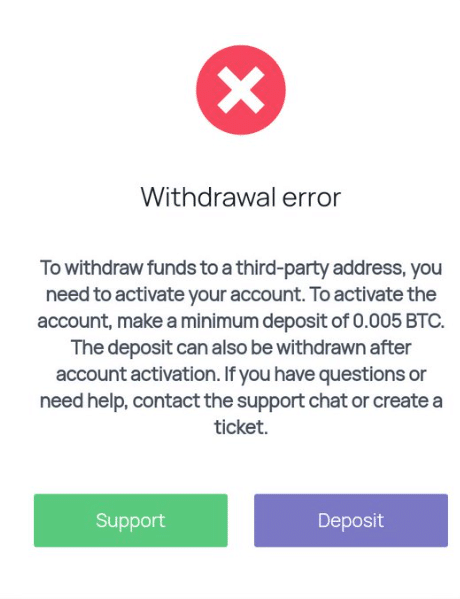 The scam sites

I've seen two fake crypto exchanges promoted in these kinds of tweets. They look identical to each other, using the same imagery and copy on their homepage.
The domains for both sites were also registered on the same day, July 3rd 2023, with the same domain registrar, Tucows Domains Inc. Plus, both domains have the same two Cloudflare nameservers, which makes it likely they belong to a single Cloudflare account.
All this suggests the two scam sites are being run by the same people.
Twitter accounts promoting the scam
The scammers used a variety of different accounts to promote the scam. Some accounts impersonated big web 3 names, like Azuki, to trick people into thinking the scam was legitimate.
These were relatively easy to spot, however. For example, one fake Azuki account promoting this scam had the handle @0xZaynAndres, which has nothing to do with Azuki, and had only 70 followers. It has since been suspended.
More concerning is that some accounts with thousands of followers were promoting the scam, presumably because they had been hacked. One account, @purpleapeeth, had 58.5k followers, with one scam tweet receiving over 315k impressions!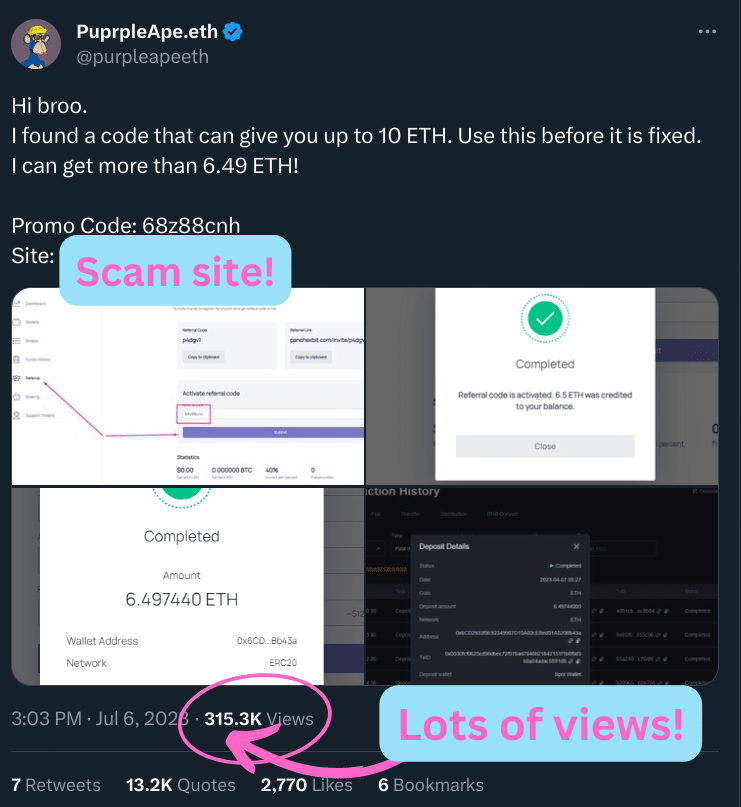 Many other accounts were also used to support the scam and make it look more legitimate. For example, @purpleapeeth's scam tweets had tens of thousands of retweets, many of which were from accounts tagging other people and encouraging them to fall for the scam.
The replies to the scam tweets also featured accounts thanking the original poster, presumably to offer fake social proof the scam was genuine.
How to avoid scams like this
The old saying "If something seems too good to be true, it probably is" applies here. There's no good reason a cryptocurrency exchange would give away up to 10 ETH (approximately $18.5k) per customer. So be incredibly suspicious of anything that claims to be giving away free money.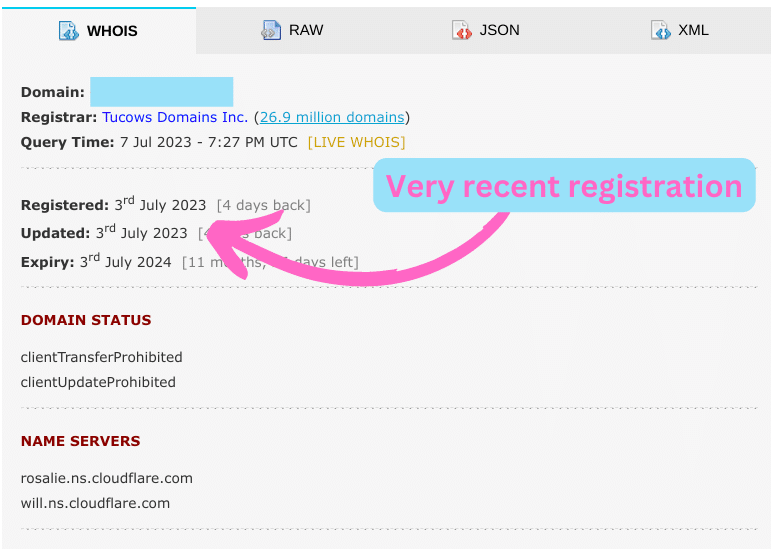 The domains of the fake crypto exchanges provide another red flag: they were just days old when the scam tweets started appearing. You can find out when a domain was registered by doing a Whois lookup at whoxy.com or another similar site. In general, be very suspicious of newly registered domains because they are often used for scams.
Finally, if you are asked to pay some kind of fee to withdraw funds from a crypto exchange, you're likely caught up in a scam. After all, why couldn't any such fees be deducted from the funds you want to withdraw instead?
The takeaway
Crypto scams are frustratingly common on Twitter. But you can protect yourself by being cautious and looking out for red flags!
Update July 8th 2:30am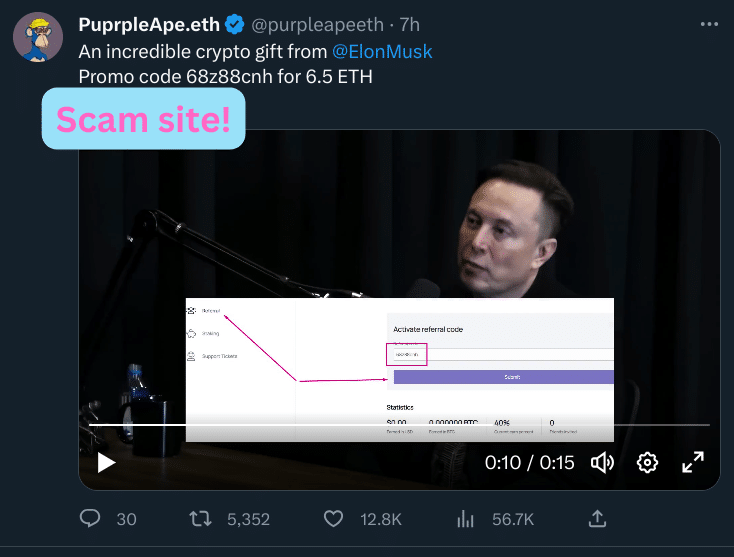 The @purpleapeeth account is now promoting another fake crypto exchange. This time, the tweet includes what appears to be a deep fake video of Elon Musk endorsing the scam. Stay safe out there!